Nicholle Lovely creates organic themes of spirituality through her interpretation of the Goddess archetype within Mother Nature using acrylic paint, ink, and collage.
Nicholle is inspired by metaphysics and universal consciousness. She holds a Masters degree in Transpersonal Counseling Psychology and has a specialization in Creative Expression. Nicholle facilitates therapeutic workshops on Self-Empowerment utilizing Holistic Art Therapy.
Nicholle is an artist of color from the San Francisco Bay Area. She is currently residing in New York City where she sells her original art. You may buy artwork by clicking on the link at the bottom of this page.
You may also sponsor Nicholle by donating to her art fund. Your donation will go towards publications, art supplies, and registration fees for exhibitions. Any and all donations are a blessing and are greatly appreciated.
Thank You for viewing. ENJOY!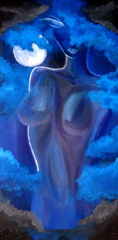 Comments (1) | Add a Comment
Vivid and fierce!
Alici aLanglais | February 19, 2010